WHAT MAKES OUR 1-MONTHS LENSES SPECIAL?
Long-lasting lenses, tested and certified for 6-months of use. Available with or without power.
The package includes 2 vials (1 pair of lenses), soft tip tweezers and a lens case.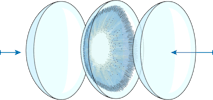 LAYERED LENS TECHNOLOGY
PROTECTED COLOURS PROTECTED EYES
The layered lens technology keeps the colour design sandwiched between two layers of the lens material to better preserve the colours and to keep the pigment from touching your cornea directly.

TEAR ROTATION SYSTEM
LENSES DESIGNED FOR COMFORT
We work hard to ensure our lenses lead the market in quality and comfort. The tear rotation edge structure keeps your eyes naturally hydrated by letting your tears pass-through behind the lens.

DESIGNED IN SWEDEN
NATURAL-LOOKING COLOURED LENSES
COCAVANNA lenses are designed in London. Our designs are made to perfectly integrate and work with your existing eye colour and create a natural-looking shade unique to you.

ISO 13485 & CE
PRODUCT SAFETY STANDARDS
COCAVANNA coloured lenses are manufactured to international safety standards (ISO 13485) and CE marked. Just as safe as any conventional lenses you buy at the pharmacy. We always recommend reading our online manual before use.